By Marcella Zimmermann
New York Art Department presents Art Slots, a weekly listing of art openings and happenings we find worth your while... usually going down during the artsy-est timeslot ever— 6 to 8PM.
If you'd like to be included in next week's post, e-mail info@newyorkartdepartment.org.
THURSDAY, FEBRUARY 27
Todd James
Supernatural
Sandra Gering Inc
14 E 63rd St NY
6-8PM
Comic book nerd sexism wrapped in nostalgia for margenta-nippled girlfriends past, Todd James's new show is delightfully off-color in more ways than one.
Here's what his gallery had to say:
For this exhibition, James features his women: a colorful cast of warriors, sunbathers, sorcerers and girlfriends that have populated his work from its earliest years through today. Sometimes animated, sometimes relaxed, usually scantily clad and almost always humorous, these characters have proved to be emotional touchstones in a narrative that has balanced comedy and tragedy since the beginning of the artist's career.
FRIDAY, FEBRUARY 28
DISCHARGE
an exhibition by Petra Collins
Capricious 88
88 Eldridge St, 5th Floor, NY
6-9PM
A quick Google of Petra Collins makes her seem like the art world's Lena Dunham, but there's way more to her work than girls. She actually reminds us more of the pervy cat from the Met's exhibition "Balthus: Cats and Girls— Paintings and Provocations." She grins knowingly and leers at us from behind her camera lens, giving thirsty voyeurs an intimate look into the secret world of girls... and unabashedly destroys their wet dreams of topless pillow fights and make-out sessions and replacing them with a softly lit, pink reality.
We're excited to see this exhibition--fingers crossed that the Internet stops obsessing about her pubic hair and starts to consider why it's so fixated on these hypersexual images of young girls.
BTW, Collins is also the founder and curator of The Ardorous, an online art collective showcasing work by emerging female artists, as well as a staff photographer at Rookie, Tavi Gevinson's magazine for teenage girls, and a casting director for Richard Kern. And we love her.
Sacrifice Your Body by Roe Ethridge
Publication launch and signing
KARMA
39 Great Jones St NY
6-8PM
Visit the best bookstore in NYC and get Roe Ethridge to sign Sacrifice Your Body posters and limited editions. Maybe go to The Mile End afterwards and sacrifice your body for some smoked meat poutine.
SATURDAY, MARCH 1 (LA EDITION)
Yoshitomo Nara
Opening Reception
Blum & Poe
2727 S La Cienega LA
6-8PM
Nara's seventh exhibition with Blum & Poe, the guys largely responsible for bringing the artist to such fame, will be more of a retrospective than a show-y blockbuster, but is still one of the most anticipated openings of 2014. Regardless, there will be some wow pieces.
The exhibition will include a selection of new paintings, a series of large-scale bronze sculptures, and a survey of approximately two hundred drawings made over the last thirty years. One of the sculptures, a water fountain of teacups, will appear to be crying.
In conjunction with the drawing survey, Blum & Poe will publish a catalogue with approximately 200 images and a bilingual essay by Masue Kato, professor at Rikkyo University, Tokyo.
Tip: The gallery is open from 12 to 6PM everyday, which includes days they have openings. Avoid the masses and visit earlier. Then walk fifteen foot north to see Josh Reame's #PAINTINGS, which opened last week.
Josh Reames
#PAINTING
Luis de Jesus Gallery
2685 S La Cienega Blvd LA
Josh Reames was part of NYAD's first digital art show, YOU ARE HERE, last October. We've been friends ever since.
Josh continues to explore emoji abstraction in #PAINTINGS, his first solo exhibition in Los Angeles. He steamrolls then stamps familiar digital imagery onto one-dimensional planes, and then punctuates them with MS Paintbrush-y zigzags. His paintings look the same in person as they do online, which is more of a reason to go see them than not!
SUNDAY, MARCH 2
Skit curated by Tisch Abelow
Pineapples and Teapots by Lauren Luloff
Closing Party
The Hole
312 Bowery NY
3-6PM
Visit NYAD's favorite gallery for a final look at their two February exhibitions before they come down for Matthew Stone's upcoming show, Unconditional Love. Wieners and beer will be served!
In case you can't make it, here are our favorites from Skit below: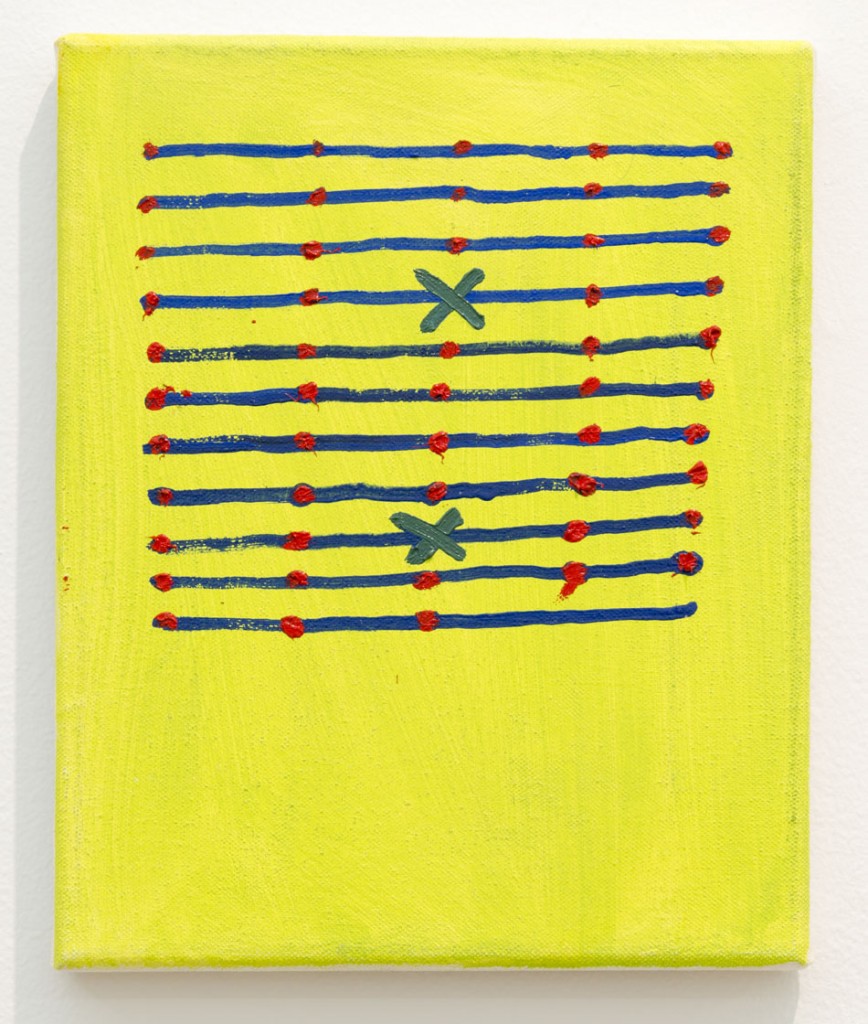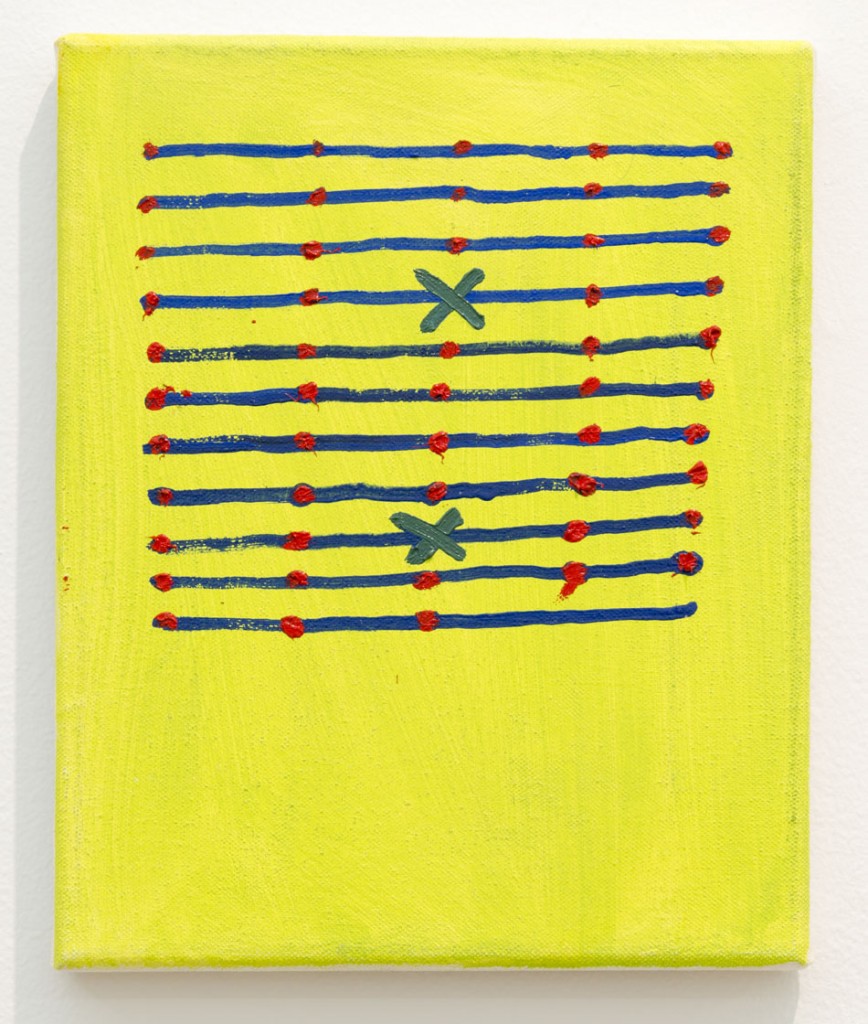 UPCOMING
The Last Brucennial, presented by Vito Schnabel & The Bruce High Quality Foundation. Opening 6, March 6, 6-10PM
Unconditional Love, Matthew Stone - The Hole. Opening March 6, 6-9PM
Pieter Vermeersch - Team Gallery (83 Grand St). Opening March 30, 6-8PM